Showable Art may earn a small commission when you click and buy something using links to merchants on this page. Learn more.
We know how the fine watch business and the art world enjoy close ties. Yet, a luxury art watch is an artwork in itself, with the dial serving as a miniature canvas. From etchings to appliqué of gold on the dials, watchmakers have created limited-edition models that collectors covet. Owning one of these watches is owning something genuinely exclusive.
Blancpain – the "Great Wave" Art watch
In 2016, Blancpain's Métiers d'Art studio premiered their exclusive Great Wave art watch. The woodblock print named The Great Wave Off Kanagawa by Japanese ukiyo-e artist Hokusai inspired this watch design. The timepiece features the volcanic gemstone Mexican silver obsidian and the Japanese technique of rokushō patina. Being semi-transparent, the silver obsidian provides a luminous base for the wave of white gold appliqué. The case is made of platinum. Keeping with the gray color scheme, Blancpain pairs the timepiece with a stormy gray Swiss-made calfskin strap.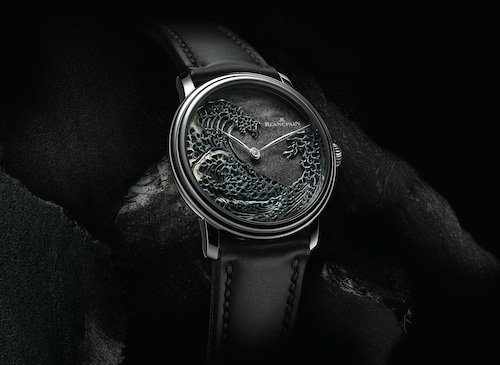 JAQUET-DROZ – Loving Butterfly
The Jaquet-Droz watch brand is known for exclusive designs featuring intricate animations. Located in the Jura mountains of Switzerland, the watchmaker produces only a few thousand artistically crafted watches per year.
A drawing titled "Le papillon conduit par l'amour" (Butterfly Driven by Love) inspired this animated art watch named Loving Butterfly. The timepiece features a dial made from Chinchilla Red, a wood petrified 140-180 million years ago. Exceedingly rare and dense, the mineral was formed when fir trees covered in volcanic ash were swept away by lava.
The design on the Chinchilla Red dial features a butterfly pulling a cherub on a chariot. The chariot and the butterfly are comprised of several dozen stationary and moving hand-etched appliqués. Intricate details bring the scene to life. For example, the wheels of the chariot turn, and the butterfly's wings flutter in time. Plus, the wings are placed almost touching the sapphire crystal, making it seem like the butterfly is about to fly out of the watch. A backdrop of hand-crafted gold trees surrounds the figures.
Ulysse Nardin – The Classico Tiger
The Swiss watch brand Ulysse Nardin is known for high-design timepieces. Their Classico Tiger design employs centuries-old champlevé and paillonné enameling techniques. The watch was created to honor the Chinese Year of the Tiger, which begins in February 2022. The Tiger is made of rose gold, with production limited to only 88 pieces.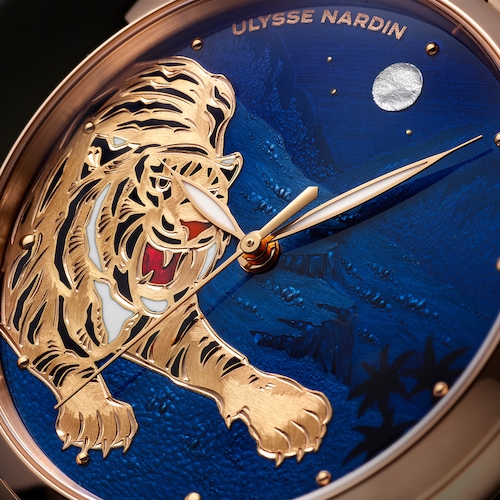 Art Watch Availability
These watches are usually not available in the public retail markets. Instead, they are made in very small quantities, often to-order through an authorized dealer. You might get fortunate and find one on the resale market or through collectors' networks. Nonetheless, equally beautiful watches by Blancpain, Jacquet-Droz, and Ulysse Nardin are available from online watch retailers.
---