Showable Art may earn a small commission when you click and buy something using links to merchants on this page. Learn more.
In an earlier article, we mentioned how fine art and luxury watches enjoy a close business relationship. This is particularly true with Swiss watchmaker Audemars Piguet ("AP" for short). The elite watch brand brings a strong presence to major art festivals and is an official partner of the Art Basel shows. Additionally, they manage a fine arts organization named Audemars Piguet Contemporary, which commissions work from artists who share a commitment to the visual interpretation of complexity, precision, and creativity. The resulting artworks are often on display each year at Art Basel in Hong Kong, Miami, and Basel.
But about those watches ….
Audemars Piguet is one of three premier watchmakers known as the Holy Trinity of Luxury Watch Brands (or the Big Three), with Vacheron Constantin and Patek Philippe completing the trinity. The three brands together set the standards of excellence for the luxury watch industry.
The AP Royal Oak watch is the brand's best-known model. It is one of the most recognizable and sought-after luxury watches in the world. Introduced in 1972, the Royal Oak now has over 100 different models, each unique in its use of materials and complications. The watch cases are available in stainless steel, white gold, yellow gold, rose gold, platinum, titanium, or ceramic. Also, you can opt for a leather wristband instead of a metal bracelet.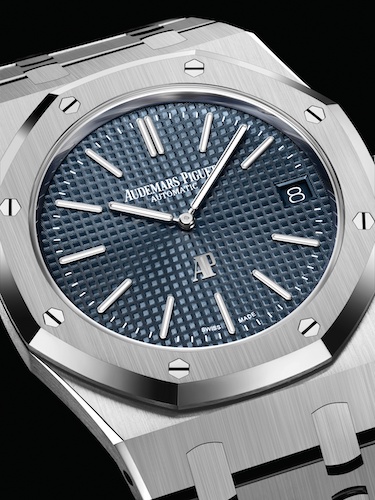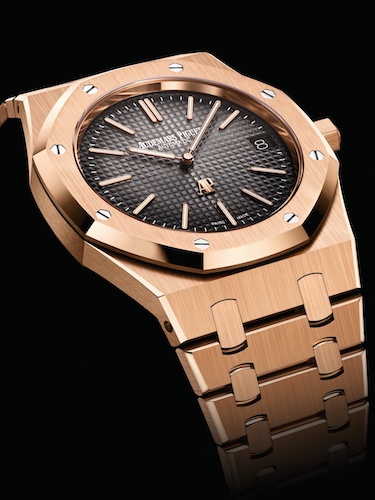 Buying an audemars piguet royal oak
New Audemars Piguet Royal Oak timepieces often have a years-long waiting list from the manufacturer. Fortunately, you can shop for a Royal Oak watch and other Audemars Piguet watches at online watch retailers. As always, be aware that inventories will vary regardless of where you shop.
---