Showable Art may earn a small commission when you click and buy something using links to merchants on this page. Learn more.
Franck Muller watches are the vanguard of watch design. If your personal style is unconventional yet classy, these watches might be the right watch for you. Franck Muller watches are identifiable by their distinctive shape, the "Cintrée Curvex", a barrel shape commonly regarded as the brand's unique silhouette. Similarly, the audacious numeral design and bold colors make these timepieces instantly recognizable.
The Vanguard Classic
The Franck Muller Vanguard watch collection is all about clean, futuristic aesthetics. The lines and curves of the case exude classic elegance, and the aggressive numerals instantly grab attention. Having minimal complications, the Vanguard Classic model uses eye-catching color schemes to get your attention.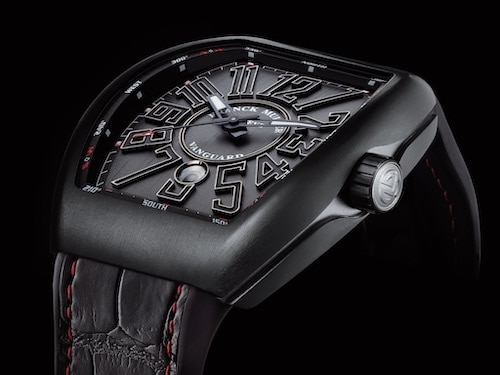 The Vanguard Crazy Hours
Even more unconventional is the Vanguard Crazy Hours watch. This artful timepiece portrays time in the abstract. Ask yourself, is 2 o'clock only defined by the familiar position of the hands on a watch dial? While the case and dial are the same as the Vanguard Classic, the order of the numerals is rather crazy. The position of the hands alone does not imply the time.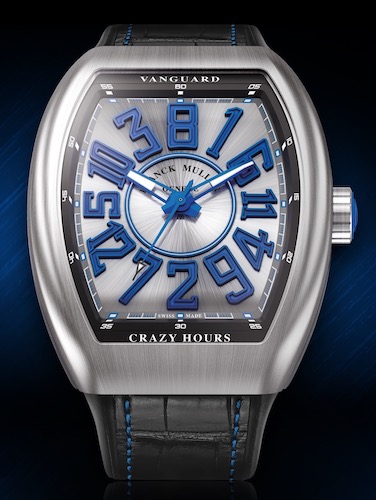 The Crazy Hours features a unique movement that causes the hour hand to jump to the next correct number regardless of its position on the dial. Thankfully, the minute hand follows the usual 60-minute cycle. You and your guests will be entertained as you count down the final seconds of each hour to witness the jumping hour hand.
---